Tenchi association is delighted to host a seminar by Yasuhiro Sensei Saito in June 2023.
This seminar is open to all, from beginners to more advanced levels.
Please note the following information is subject to change, and needs to be confirmed.
Where
The seminar will take place at CitéSport, in Fontainebleau.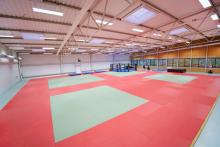 When
From Saturday June 3rd to Sunday June 4th:
Friday 2nd: check-in at CitéSport for people staying there,
Saturday 3rd: 2 keikos in the morning and 2 keikos in the afternoon, beginning of first keiko by 09:00,
Sunday 4th: 2 keikos in the morning and 2 keikos in the afternoon, end of last keiko by 16:00.
Further details about the schedule will be added later.
How much
Estimated costs:
Full seminar: 140 euros,
Full

accommodation

(diner on Friday evening, 2 breakfasts, 2 lunches): 168 euros,
Party on Saturday evening: 35 euros,
Seminar tee-shirt: 25 euros.
Details are provided on registration form.
Bedsheets and towels are included.
Booking
Booking is mandatory. Please, use this form.
Payment by bank transfer only. Please add your name in the description field.
IBAN: FR76 1027 8060 7600 0204 1460 165.
BIC: CMCIFR2A.
People training in the seminar must be insured for Aikido training and bring their own weapons (jo, ken, tanto).
For any question, please get in touch with saito2023@lists.aikido-paris.org.
How to get there
CitéSport is located in the Centre National des Sports de la Défense, 1 rue des Archives, 77300 Fontainebleau.
It's possible to come by car or by public transport. Nearer station is "Fontainebleau - Avon". The station is a 30 minutes from the CitéSport site on foot. A shuttle between the station and the site is planned.